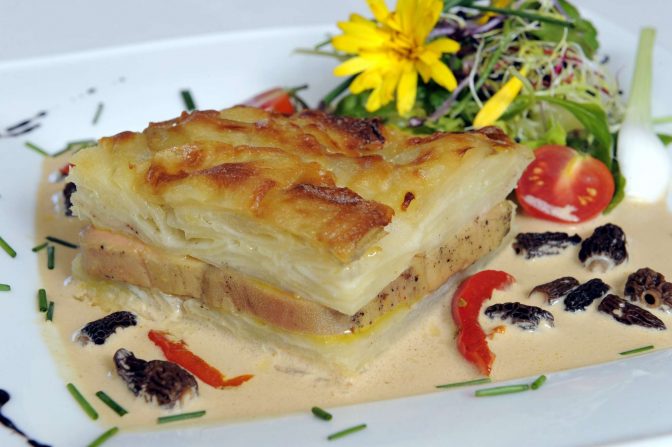 All our dishes are prepared at the minute with carefully selected fresh produce, it may take more or less time. We advise you to take an aperitif to stimulate your appetite and to help you wait, a few small crackers you will be served. We are at your disposal and hope to make you happy. We wish you a nice gastronomic moment in our company. We have for you:
a brewery of 20 places setting
a 50 places setting room
a large room of 30 to 120 places setting for your family celebrations, business dinners.
For your group (minimum 15 people) such as birthdays, weddings, meals the feasts of families etc... you can refer to the proposals of dishes in the page Catering in order to compose your menu according to your tastes and your budget.
Monday to Thursday:
We offer lunch (entry & main):
A meat day menu at €10.20
A Fish day menu at €11.20
A barbecue at €14.80
An array of suggestion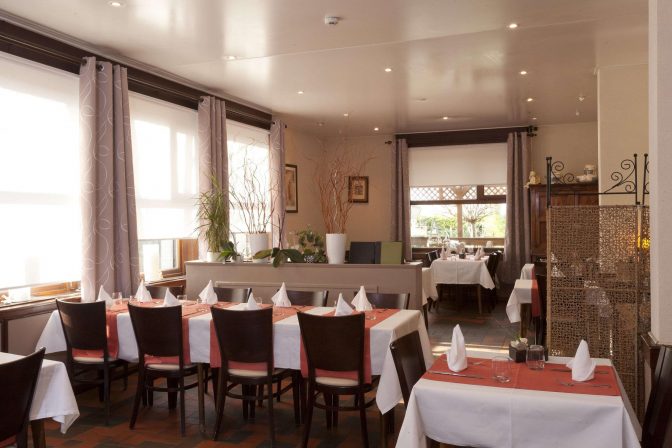 Potato gratin with "foie gras" and morel (mushroom) sauce
Duck Foie Gras and chutney, toast
Duck ballotine with dried fruit, walnut salad
Homemade marinated salmon
Grilled scallops and risotto with small vegetables
The fillet of cod sauce with Riesling, tagliatelle
The fillet of salmon and its sauerkraut, riesling sauce
The faux-net (maturée meat breed)
Lamb mouse, crushed potato
Veal kidney cooked in the old-fashioned cognac
Veal head and vinaigrette, eggs and tomatoes
Sauerkraut with 5 different meats
The skewer of veal fillet and duck breast with orange, vegetables and fries
The dessert showcase is at your disposal
Minced chicken (thin slices of chicken) with mushroom cream sauce
Or
A small beefsteak with parsley butter
Vegetables, French fries or "spaetzlés" ( traditional homemade Alsatian pasta )
*****
2 scoops of ice cream from a large choice of flavors